Our products

Big volume

High Performance PS
High Performance Pallet Shipper
Lightweight and high performance
Temperate
Cool
Freeze
+15°C/ +25°C
+2°C/ +8°C
-25°C / -15°C
Volume
Euro Pallet (1213 L) US Pallet (1619 L) 2 Euro or US Pallet (3013 L)
Performance
Up to 144H ISTA 7D
The Pallet Shipper PREMIUM+ version keeps your products at the desired temperature up to 144 hours.
«Lightweight, flat packable, available in Ready-To-Use and reusable. The latest version of EMBALL'ISO Pallet Shipper has been designed to help you reduce your costs and environmental impact.»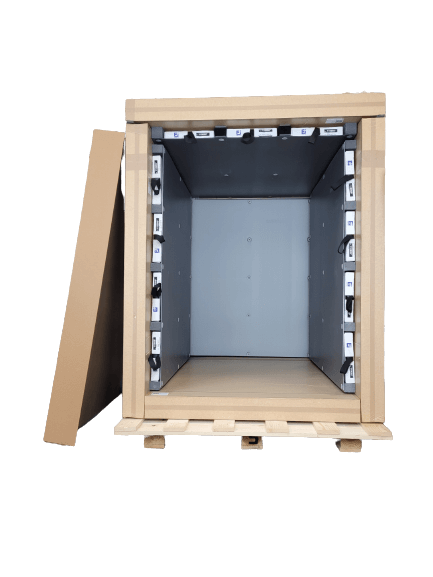 Very high Performance
Qualified by our design office in accordance with ISTA 7D Summer and Winter standards
Qualified for General cargo transportation in replacement for active solutions
High-performance briquettes made from Phase Change Material (PCM)
Ease of use
Universal Packout whatever the season
PCM sleeves easy to use
Prepare and store in advance at 5°C, +18°C or -21°C in hibernation mode
Euro palletized payload
Flatpack transport and storage
Assembly and disassembly in less than 6 minutes
Already conditioned delivery available: Ready-To-Use
Cost-killer
Thanks to its lightweight, the ability to lay it flat to transport or store it, and the Reuse and Reverse Network program from EMBALL'ISO, HPPS allows you to reduce your costs by at least 30%.
Dimensions designed to reduce costs: aircraft palletizing by 4, 20 Pallet Shippers by truck
30% to 46% lighter to competitors solution
No repositioning costs
No waste management costs
Support
Detailed Packaging instructions and advices
Fulfillment study
On site and online training
Environnemental-Friendly
50% to 80% less CO2 emissions due to lighweight and flatpacked storage
Reusable after quality control and cleaning